The Ice House Winery
14778 Niagara Parkway, Niagara-on-the-Lake, Ontario, Canada
(905) 262-6161
The Ice House Website
The Ice House Winery holds a unique position in the wineries of Niagara-on-the-Lake. It is the only winery near Niagara Falls that exclusively makes Icewine. That's right. Totally dedicated to the making and perfecting of what is often referred to as, "Canada's liquid gold," winemaker, Jamie Macfarlane is not only committed to creating the highest quality Icewine in the Niagara Falls region, he is committed to creating the highest quality Icewine in the world. Macfarlane decided the only way to achieve this lofty goal was to open a winery 100% dedicated to the making and mastering of Icewine. Macfarlane likens Icewine to classical music. He sees it as complex, intense, harmonious and balanced, with an almost indescribable "Wow" factor. It is this combination that Macfarlane sets out to achieve with each of the Icewines he creates.
Today, with a focus on making a limited supply of Icewine to produce the best of the season's offerings, The Ice House is the proud recipient of 3 Internationally Famous Monde Selection Grand Gold Medals. And locally, Jamie's crisp "toasting style" of Icewine is making The Ice House famous for their innovative food pairings and Icewine cocktails.
Indeed the world has recognized The Ice House Winery's deep understanding of Icewine. In 2010, The Ice House Winery's Icewine was selected as Canada's Premium Gift for the celebration at the Golden Globes Oh Canada event.
And in 2011, Jim Treliving of the Dragon's Den and CBC's newest show; The Big Decision expressed an interest in investing in the winery. And in 2012, the focus of the retail Icewine tastings is to help visitors become Icewine Experts.
Guests are encouraged to share their good times at The Ice House. Before entering the front door, you may wish to take a photo with The Ice House Winery's newest edition Polaris…rumour has it that giving him a bear hug will bring good luck. Polaris is the life-sized sculpture of the mighty Canadian polar bear, a symbol of The Ice House's proud Canadian heritage and the name of the winery's new Icewine spirit in the making.
A visit to The Ice House Winery is also never complete without a Northern Ice N'Icewine Slushie, which is exactly what it sounds like, a refreshing, yet sweet and delicious chilled treat. Not unlike The Ice House Winery itself, the N'Icewine Slushie is a unique Icewine experience that is a must-do on any wine country tour list.
Other Attractions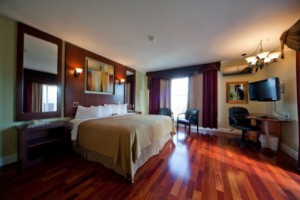 5305 Murray St. Niagara Falls, Canada 1 (800) 663-3301 Quality Hotel Fallsview Cascade Website Quality Hotel Fallsview Cascade is the Niagara Falls hotel for you if you want to be close to the Falls and many other popular Niagara Falls attractions. This boutique hotel in Niagara Falls is conveniently located just steps from the mighty… Read more