Strike Rock N' Bowl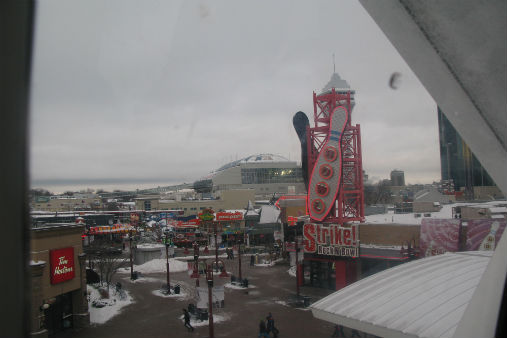 4960 Clifton Hill, Niagara Falls, Canada
(905) 358-4788
Strike Rock N' Bowl Website
Bowling is one of those activities that is great for dates, families and couples. What could be better then clapping for your kid when they get a strike, or laughing at your honey when they make a fool of themselves when they throw their ball in the gutter. All the bowling fun is expected at Strike Rock N' Bowl in Clifton Hill, Niagara Falls but it also takes it up a notch to make it the best in high energy entertainment in Niagara Falls.
At Strike Rock N' Bowl, you'll find 14 full size 10 pin bowling lanes, a high-def audio/visual system banging today's top hits, intelligent LED lane lighting and touch screen monitors for easy, automated scoring. At Strike Rock N' Bowl, the place makes you feel as if you're playing in a professional bowling league. Plus, with special bumper-rails that can be raised or lowered for each player, kids and novice bowlers don't have to throw gutter balls but that wouldn't be entertaining for the observers.
As much fun as bowling is, you can only play for so long before you get tired and this bowling alley accommodates you when you had enough bowling for one day. Strike Rock N' Bowl has billiards or 8 ball, pin ball, high-tech arcade games, and racing simulators.
Then, when you get hungry or thirsty you simply order from a full Boston Pizza food and bar menu. The menu includes gourmet pizzas, delicious pasta, as well as lip-smacking appetizers, salads, entrees, desserts – and a wide variety of beer, wine and spirits.
Your Niagara Falls vacation wouldn't be complete without a visit to the Strike Rock N' Bowl. It's a great place to enjoy some great games, delicious food and good family fun.
Just walk to the Niagara SkyWheel and you'll find it directly adjacent. You can't miss it! The facility is open from 11am to 2am, seven days a week. House balls and rental shoes are available for bowlers of all ages.
Photo Courtesy of Ranon G.
Other Attractions
5631 Victoria Avenue, Niagara Falls, Canada (905) 357-3327 Nightmares Fear Factory Website Nightmares Fear Factory is the world's most frightening Niagara Falls attraction. Over 120,000 people have chickened out…will you? IT'S THAT SCARY!! Featured on Live! with Regis & Kelly, The Tonight Show with Jay Leno, Good Morning America, Canada AM, MTV, Yahoo, MSN, The… Read more