Erendira Wallenda in Niagara Falls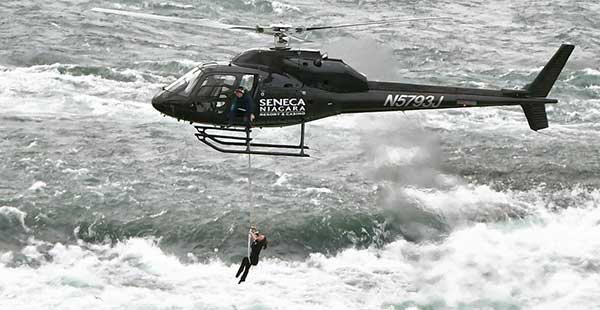 Within sight of the Skylon Tower's beautiful Revolving Dining Room where a wonderful dinner can be had, there was on Thursday, June 15th 2017 one of the most amazingly tooth-rattling daredevil stunts to happen in the Niagara Region.
The Skylon Tower has seen many daredevils come through, but this one was special.
Erendira Wallenda, Nik Wallenda's wife, hung from a rope dangled down by a helicopter. Sometimes with her legs upside down. Sometimes with her fingers. Sometimes even by her fingernails. But the most amazing moment? When Erendira Wallenda hung onto the rope, at one point, with her teeth.
Erendira hails, through her marriage to Nik Wallenda, from a long line of daredevil artists who have performed incredible, breath-taking stunts across the world.
To take you back a bit to the last Wallenda to do something to cater to the appetites of not just the diners at the top of the Skylon Tower, but also the rest of the Niagara Region, we revisit for a moment the crossing of Nik Wallenda, the now-penultimate hero from a very long line of performers.
Nik Wallenda crossed the Niagara gorge, with powerful waters plummeting past five hundred fifty meters under his feet, whilst talking to his father on a headset, taking questions from ABC, and doing a record-long crossing.
When he reached the Canadian side of the gorge, he was greeted by customs officers who inspected his passport.
Both Erendira and Nik commented on the winds swirling around them while they went about their famous performances. Erendira mentioned that, "It was windier than I expected it to be," while Nik mentioned that those winds hit me from every which direction, was definitely more than I expected for sure."
Anyone who has ever dined in the Skylon Tower Revolving Dining Room can attest to, on occasion, hearing those selfsame winds up on the Observation Tower. They have some idea of what Nik and Erendira Wallenda have tasted up above the gorge.
Upon landing, and aside from commenting on the wind, Erendira Wallenda was asked to give a comment on her daredevil feat. Could she take a moment to address the young girls in her audience which spanned the Western world?
She said, "Never give up on your dreams," trying to communicate the message that a girl can do anything a man can do, with a little more grace on top. This, from a world-renowned and famous trapeze artist who has just dangled from a rope extended from a flying helicopter.
The Skylon Tower has seen many, but rarely more inspiring than Erendira Wallenda, her husband Nik, and the line of daredevils which stretches back to the formation of the Niagara Falls tourist industry.
Erendira Wallenda and her teeth, Nik Wallenda and his tightrope, and many others span the length of history and in the sight of the Skylon Tower, form a huge amount of the history in one of Canada's most important spots.
So for Canada's 150th Anniversary, how much more fitting could you get than having dinner in the sight of the heroes that came before in the Skylon Tower Revolving Dining Room?