New Year's Eve in Niagara Falls
New Year's Eve in Niagara Falls is one of the most popular destinations. The Skylon Tower is the perfect celebratory dining experience on this special night. Visitors can also expect a top-notch event with fireworks and live music right at Victoria Park, near the brink of the Falls.
Bryan Adam's Performs Live
This year's New Year's Eve concert will celebrate the dawn of 2020 with headliner Bryan Adams and Canadian Indie Pop band Walk Off The Earth. For those who are unable to make the trip, the event will be broadcast nationwide on CBC, with highlights from the event being shown on CNN's New Year's Eve with Anderson Cooper.
As winter weather is sure to be in full swing, make sure you dress accordingly. It can be much colder down by the Falls. The mist also makes it more damp and quite slippery in parts, so make sure to wear warm footwear with a good gripping sole. Extra gloves are also a good idea, and picking up some hand warmers may also come in handy (pun intended).
Revolving Dining Room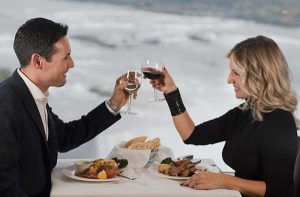 For those of you who prefer an indoor experience, now is the time to elevate your expectations and reserve your table at the Skylon Tower's world famous Revolving Dining Room. Situated 775 feet above the brink of Niagara Falls, serving fine foods and wine, the Revolving Dining Room is an ideal Niagara Falls Restaurant to ring in New Year's Eve. Reserve an early dinner and you'll be able to attend the concert afterwards.
The Skylon Tower (and its parking lot) are within walking distance to Victoria Park, where the concert is located. Enjoy a delicious dinner before heading down to the festivities. The best part about parking at the Skylon Tower is not having to remember which way you walked or where you parked because all you have to do is look up and walk towards the Tower.
Winter Festival of Lights
The New Year's Eve event at Niagara Falls regularly attracts more than 20,000 people. This year's concert starts at 8 p.m. with a family fireworks show at 9 p.m. and another, more robust display at midnight. The Winter Festival of Lights, another popular winter attraction in Niagara Falls will also be on display during this time, creating a whimsical setting for a unique outdoor celebration. The festival displays are visible from the Skylon Tower as well, giving you a birds-eye-view.
If you're wondering whether you'll be able to see the Falls at night, you absolutely will! The Horseshoe Falls will be illuminated during the night, a must see on New Year's Eve.
I almost forgot to mention the best part … This is a FREE event! So do not worry about any admission charge to attend the concert.
Reserve your celebratory dining experience at the Skylon Tower's Revolving Restaurant this New Year's Eve in Niagara Falls.
For more event ideas check out our master list of events in Niagara Falls.