Terrasse d'observation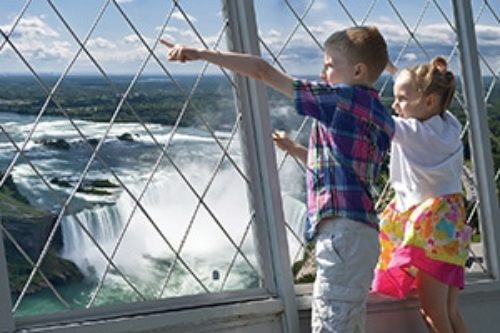 There are tons of Niagara Falls attractions you can visit, but if you only visit one during your Niagara Falls getaway, the Skylon Tower Observation Deck has to be it. A trip to the top of this world-famous Niagara Falls attraction combines an exhilarating 52 second ride with the awe of seeing Niagara from 775 feet above the mighty Falls. From the moment you hop aboard one of our « Yellow Bug » glass-enclosed exterior elevators and glide smoothly to the top, you'll agree the Skylon Tower is the highlight of your visit.
From our indoor and outdoor Observation Decks you'll marvel at once-in-a-lifetime views of the mighty Niagara Falls, the Great Gorge, the Niagara wine district, the dazzling cityscape below and the Toronto and Buffalo skylines. From this highest vantage point in Niagara you'll see 8,000 square miles of Canada and the U.S. At night you may marvel at the illumination of the Falls, the city lights far below and seasonal Falls fireworks.
Every Niagara Falls vacation must include this Niagara Falls attraction. Come and see for yourself the view that made Niagara Falls so famous.