Skylon Tower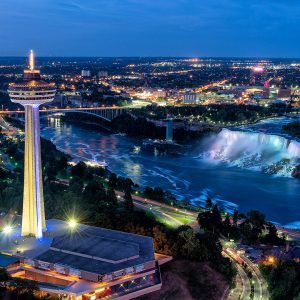 Take your Niagara dining experience to new heights
The most celebrated Niagara Falls restaurant in Canada, The Skylon Tower, offers two great levels of fine dining, both 775 feet above the Falls! Choose from our legendary Revolving Dining Room Restaurant and savour award-winning continental cuisine, or select our family-affordable Summit Suite Buffet Dining Room restaurant.
The Skylon Tower is Niagara Falls' best dining value with 'Early Dinner' specials. As an added bonus, admission to the Ride-to-the-Top and Observation Decks attractions is always FREE when dining!
The Revolving Dining is an extraordinary experience. The restaurant silently rotates 360 degrees every hour, giving diners a constantly changing vantage point. It is estimated that more than 125 km are viewable from the dining room. It really is the most breathtaking view in all of Niagara Falls.
Our Ride-to-the-Top and Indoor/Outdoor Observation Decks are favourite attractions in the region. Glide smoothly to the top aboard our exterior glass-enclosed "Yellow Bug Elevators" in just 52 seconds, where you will enjoy spectacular views of the Falls, the Great Gorge, the Niagara Wine District, and the city skylines of Buffalo, New York, and Toronto.
Our 3D/4D Falls Movie "Legends of Niagara Falls" and our Family Fun Centre promise great entertainment for all ages.
The Skylon Tower Niagara Falls restaurant or observation deck attraction is always the highlight of any vacation. It offers plenty of things to do in one location. The Skylon Tower parking lot is centrally located at reasonable rates. Reserve your table with us tonight, bon appétit!
Skylon Tower Fun Facts
1. The Revolving Dining Room rotates 360 degrees in one hour
2. You can see the Canadian Horseshoe Falls, the American Falls, and the Bridal Veil Falls all from our restaurants and observation deck.
3. Visibility from the Observatory on a clear day is up to 80 miles (125 km).
4. The height of the tower above Niagara Falls Gorge is 775 feet.
5. The actual height of the Skylon Tower from the base is 520 feet.