Planning the Perfect Date Night in Niagara Falls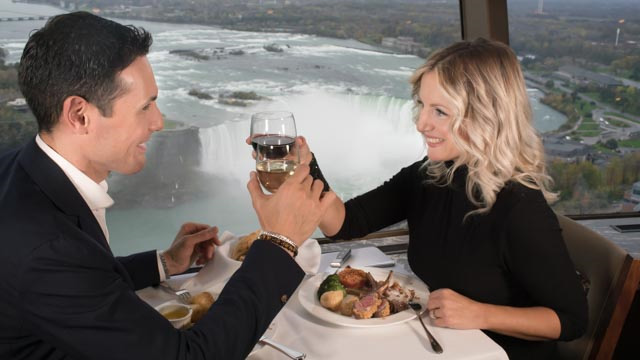 Looking for the right spot to take that special someone out for a first (or fiftieth) date as unique and breathtaking as they are? Book a table at the Skylon Tower in Niagara Falls.
An Iconic Experience
The Skylon Tower is the most iconic landmark in Niagara Falls (okay, the second most iconic after the Falls themselves!) Sitting in the very heart of downtown Niagara Falls, the Skylon Tower is unforgettable. It defines the skyline, and is the tallest building in the area, offering a completely uninhibited view of the Falls and the surrounding region.
Show Your Interest
Nothing says you're interested like a well planned date. Blow your special someone away with a full day of fun. Start with a close up view of the Falls, and take advantage of Niagara's many attractions – all of which are just a short walk from the Skylon Tower. Admire the scale and power of the Falls, listen to its roar, and feel the mist settle on your face. Take a stroll up Clifton Hill, or for more adventurous couples, consider a boat or helicopter tour of the falls or the Niagara River. Then make your way to the Skylon Tower where you can watch a 3D/4D movie, or shop at the indoor mall.
Dinner at the Skylon Tower
No matter where you spend your day, with Skylon Tower's central location it'll be easy to make your way back for dinner. Choose from either the famous Revolving Dining Room, or the Summit Suite Buffet. Both are home to award winning, world class cuisine crafted by expert chefs and, of course, feature a one of a kind view like no other.
The Summit Suite Buffet is a great option for a first date. With a double-sided buffet full of delicious dinner options, you won't need to know your companion's likes and dislikes – there is something on the menu for everyone.
Revolving Dining Room
Home to fine but casual dining, the Revolving Dining Room is one of Skylon Tower's most popular attractions. Relax and enjoy your meal as you take in the view in the Revolving Dining Room, which (as you might expect) revolves at a leisurely pace of one full rotation per hour, creating a spectacular panorama dining experience.
Enjoy buttery lobster, steak grilled to your taste, hot and cold appetizers, famous cheesecake, or your choice from a menu full of hand picked, locally fresh ingredients.
Pair your meal with a wine from our expansive collection. Niagara is Canada's premier winemaking region and home to award winning Rieslings, Cabernets and Merlots, and world famous ice wines that are almost as sweet as your date.
Observation Deck
Every meal comes with a free ride to the Skylon Tower's world famous Indoor/Outdoor Observation Deck. During the day you'll see a full view of the Niagara wine region – even as far as Toronto and Buffalo. But, what better way to end your date than with the signature Yellow-Bug elevator to the top of the tower, where you'll get a bird's eye view 775 feet above the falls. What better way to frame your first kiss than with the Falls in the backdrop, brilliantly lit to enhance an already spectacular view, and fabulous first (or fiftieth) date.