Niagara Falls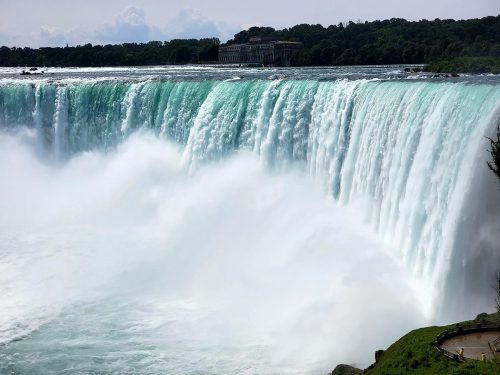 Niagara Falls is one of the famous landmarks in Canada right up there with the CN Tower and Parliament Hill. Niagara Falls is the collective name for three falls. From largest to smallest, the three waterfalls are the Horseshoe Falls, the American Falls, and the Bridal Veil Falls. Niagara Falls is one of the big tourist attractions in the area next to the casinos, Clifton Hill, Marineland, and the Skylon Tower. The annual rate of tourists to Niagara falls is approximately 28 million. Seeing the Niagara Falls is great during the daytime as you can adore and admire its natural beauty; however, seeing Niagara Falls at night is absolutely a treat as floodlights illuminate Niagara Falls for several hours after dark.
There have been some daredevils that have taken the experience of Niagara Falls just a bit too extreme with people putting themselves inside barrels and going over the Falls and tightrope walkers walking a tightrope across the Niagara Gorge, from the United States to Canada. All these stunts were deemed illegal and the lucky survivors had to face the consequences of their actions by either facing criminal charges or paying stiff fines.
But all this changed as of June 15, 2012, as daredevil tightrope walker Nik Wallenda walked across Niagara Falls with the approval from Ontario's Niagara Parks Commission. It was a 25-minute intense journey across Niagara Falls with an estimated 120,000 cheering spectators egging him on, as he became the first person in 116 years to tightrope across Niagara Falls.
Niagara Falls is one of the natural wonders of the world and will continue to be so for a long time to come.