Have a Frightfully Fun Halloween in Niagara Falls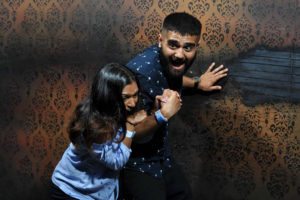 Niagara Falls has always attracted daredevils and death-defiers. Big name like the Great Blondin, Harry Houdini, and Nick Wallenda have been drawn to the Falls. Its sheer power and might begs to be defied. Great minds like Nicola Tesla were fascinated by it. For whatever reason, Niagara Falls pulls people to it like a magnet, especially those looking for excitement. Beyond the Falls, beyond the cotton candy, the bells and whistles of the Casinos, beyond the fireworks and nature walks, deep in the cracks and crevices, you'll find the spooky side of Niagara Falls.
As one of the prominent battlegrounds during the War of 1812, the Niagara Region is among the most haunted in all of Ontario. Places like The Drummond Hill Cemetery, Port Dalhousie, Fort George, and even Downtown St. Catharines offer ghost walks and guided tours. The original boat tours at the base of the Falls, now know as Hornblower Niagara Cruises, was first called the Maid of the Mist, after an indigenous young woman who, legend has it, sacrificed herself by going over the Falls in her canoe so as not to be forced into marrying the elder chief. Her spirt has been accredited with saving many lives over the years, most famously a young boy named Roger Woodward who went over the Falls in 1960 wearing only a life preserver.
Frightening people has become somewhat of an industry in Niagara Falls, beckoning hundreds of thousands of people out of their comfort zone and into a chilling experience. Nightmares Fear Factory, as seen in one of their signature souvenir photos above, has perfected the art of scaring the poop out of you (ok, no one has pooped yet, but I suggest you empty your bladder before you enter). Located at 5631 Victoria Avenue, in the Clifton Hill District of Niagara Falls, Nightmares Fear Factory operates year-round, with line ups around the block during the halloween season.
Haunt Manor is another Niagara Falls halloween favourite. Built on a haunted and historic site dating back to the War of 1812, Haunt Manor takes it to the next level of fright with Hollywood quality makeup and costumes. Due to the intense nature of the experience Haunt Manor is not recommended for children or the faint of heart. Open September 22nd through November 3rd. Located at Campark Resorts, 9387 Lundy's Lane in Niagara Falls.
The All Hallows' Eve Ghost Tour at Old Fort Erie is sure to get your adrenaline pumping! October 20th, 26th, and 27th tour the grounds and barracks of Canada's bloodiest battlefield by torch and candlelight. Other highlights include authentic hot drinks and snacks from the era as well as the burning of a Guy Fawkes Effigy, followed by a Halloween themed movie screening. This years titles are Poltergeist(18A), The Shining(R), and Edward Scissor Hands(R).
If you're a super-fan of fear, and you still need more, then Frightmare in the Falls is for you! The event will feature more than 50,000 square feet of all things horror, including memorabilia, panels, celebrities, movies, autographs, displays, movie cars, cosplay, special effects props & much more! October 27th and 28th at the Scotiabank Convention Centre.
What would Halloween be without Rocky Horror? Oh Canada Eh? Dinner Show perform their annual rendition of The Rocky Horror Show live from October 26th through November 3rd. Click the link for tickets and showtimes. Located at 8585 Lundy's Lane in Niagara Falls.
The Greg Frewin Theatre is hosting a Halloween Costume Party, October 27th, with live music by The Associates, as well as full-service bar and appetizers. With so much happening over Halloween in Niagara Falls, it's a great opportunity to get in the spirit and enjoy the sights and scenery at the same time. See it all from our Observation Deck, or better yet while you dine at one of our restaurants in the sky!