Top 4 Distancing Events This Winter in Niagara Falls
Niagara Falls is lit up with illumination events this winter. The perfect self-distancing events that you can enjoy outdoors with your family bubble or in the comfort of your car. Here they are:
Winter Festival of Lights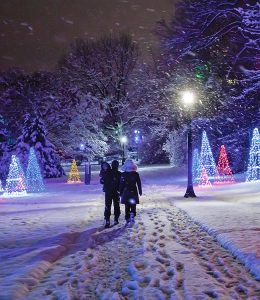 November 14th, to January 10th, 2021
Free
Event
It's the 38th annual Ontario Power Generation Winter Festival of Lights. Take in the 3 million lights along the Niagara Parkway and Dufferin Islands. Image credit Winter Festival of Lights.
Niagara Parks Motion Illuminations Over the Falls
On now runs indefinitely
Free Event
New 'Inspired by Nature' motion illuminations on the falls will occur nightly. Five-minute lighting displays play through three times on the half-hour, beginning at 7:30 each evening, with additional displays at 8:30, 9:30, 10:30 and 11:30pm. Image credit: Niagara Falls Tourism.
SeaSky International Lighting Show
December 9th to February 28th, 2021.
Ticketed Event.
A brand new LED Festival showcases incredible displays. This 15. hour walking trail is by reservation to ensure safe distancing.
Glow Niagara
November 18th to January 2nd, 2021
This is a ticketed event.
Safari Niagara has transformed into a Christmas landscape. Enjoy a 3 km drive through light journey. Image credit: Glow Niagara Facebook page.