Niagara-on-the-Lake
Niagara Falls is one of the star attractions when visitors go to Niagara; however another attraction in the Niagara region is Niagara-on-the-Lake. Niagara-on-the-Lake is a small historical town near Niagara Falls with a population of approximately 15,400. Niagara-on-the-Lake takes you back in time when you go on a tour of the following historical sites from the war of 1812 such as Fort George, Butler's Barracks, Fort Drummond and Fort Mississauga.
If historical sites are not your area of interest don't worry, Niagara-on-the-Lake has many attractions that will keep people with various interests entertained and occupied throughout your visit at Niagara-On-The-Lake. Niagara-on-the-Lake has many shops where to can buy items that are hard to find elsewhere; from hats worn by Frank Sinatra, to fine artisan cheese, to old fashioned jams, jellies and marmalades. In addition Niagara-on-the-Lake has famous wineries, great golf and amazing theatre and music for your hearing and viewing pleasure.
Although it's suggested that you walk around to take the sights, sounds and smells of historic Niagara-on-the-Lake, if you want to spice things up a bit, Niagara-on-the-Lake also offers a wide variety of ways to tour around the area. Niagara-on-the-Lake has bike tours with experienced staff that know Niagara-On-The-Lake like the back of their hand. For the romantics, Sentineal Carriages offers full tours featuring beautiful horses and fully narrated tours to ensure a comfortable and memorable ride for you and yours truly.
Picture Courtesy of Tony Chisholm
Other Attractions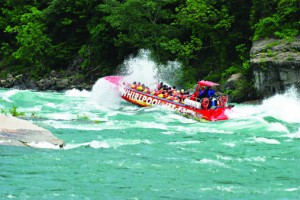 Niagara-on-the-Lake 61 Melville St., Niagara-on-the-Lake, Ontario, Canada (905) 468-4800 Whirlpool Jet Boat Tours Website Whirlpool Jet Boat Tours is celebrating 21 years on the lower Niagara River near Niagara Falls! They provide guests with awe-inspiring scenery, a guided tour which talks about the history and the geology of the area. the thrill of the Devil's… Read more