Movieland Wax Museum of the Stars
4848 Clifton Hill, Niagara Falls, Canada
(905) 358-3061
Movieland Wax Museum of the Stars Website
Movieland Wax Museum of the Stars is the closet you'll get to meeting celebrities and going behind the scenes of some of Hollywood's best movies without actually going to Hollywood (and getting arrested for trespassing on set).
Take your picture with Hollywood heavyweights in character when they were shooting some of their more popular movies – from Johnny Depp as Captain Jack Sparrow, to Tom Hanks as Forest Gump and to Arnold Schwarzenegger as the Terminator.
There are also life size wax figures of music artists, past and present – including Elvis Presley, Michael Jackson, Justin Bieber and Katy Perry.
Once the main tour is over there is still lots to do inside Movieland. Take the optional "House of Horrors Tour" if you're brave enough or visit the Fun Factory gift shop where you are able to make a replica of your own hand, made in colourful wax, a souvenior that you won't be able to get in any other Niagara Falls attraction.
Photo Courtesy of Katie M.
Other Attractions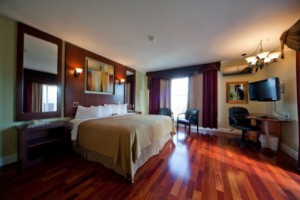 5305 Murray St. Niagara Falls, Canada 1 (800) 663-3301 Quality Hotel Fallsview Cascade Website Quality Hotel Fallsview Cascade is the Niagara Falls hotel for you if you want to be close to the Falls and many other popular Niagara Falls attractions. This boutique hotel in Niagara Falls is conveniently located just steps from the mighty… Read more