Revolving Dining Room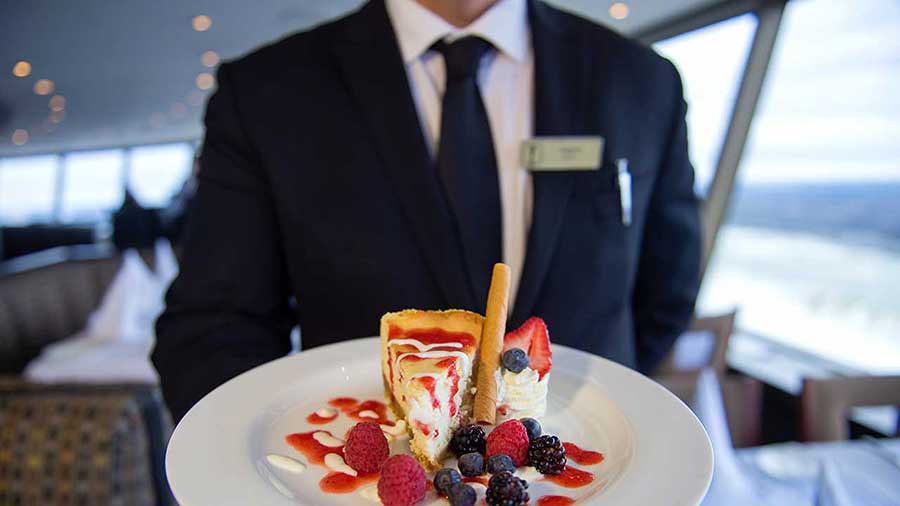 Best Falls View Dining
Enjoy a legendary Falls view while dining at the Skylon Tower Revolving Dining Room. Elevators will escort you up 775 feet to our Niagara Falls restaurant for the best falls-view dining experience. The Revolving Dining room is the perfect location for those special occasions like wedding anniversaries or a simple family get-together. Casual or dressed up, the dress attire is up to you.
Admission to our Ride-to-the-Top and Indoor/Outdoor Observation Decks are FREE when dining.
Our Canadian Niagara Falls restaurant is quite literally taken to the top at our world-famous Revolving Dining Room with a Falls view. At the height of dining excellence, we present our award-winning continental cuisine 775 feet above the Falls. For lunch or dinner, the menu is rivaled only by the spectacular view. Whether you come for a romantic Niagara dinner for two, a special celebration, or just a family vacation this Niagara Falls restaurant promises the ultimate in Niagara Falls dining.
Relax and enjoy as we revolve silently 360 degrees once each hour. Dine by night and you'll discover the magic of the Falls illumination, dazzling city lights below and seasonal Falls fireworks, and Winter Festival of Lights displays. Early dinner specials are available at 4:30 and 5:00 pm daily.
Views From Our Restaurant
Canadian Horseshoe Falls, American Falls, Bridal Veil Falls, Niagara River, Niagara Parkway and gardens, Clifton Hill District, United States border, Niagara Falls cityscape, entire Niagara Region, 0n a clear day the Toronto Skyline, and the fireworks over the Falls.
Special Menu Features:
Revolving Restaurant Hours (year-round):
Lunch: 11:30 am to 3:00 pm (see details below)
Early Dinner: 4:30 pm and 5:00 pm
Dinner: from 6:00 pm to 10:00 pm